A free mobile app for iOS and Android. Designed to be simple, fast, and help you find AA meetings wherever you are (provided we have the data).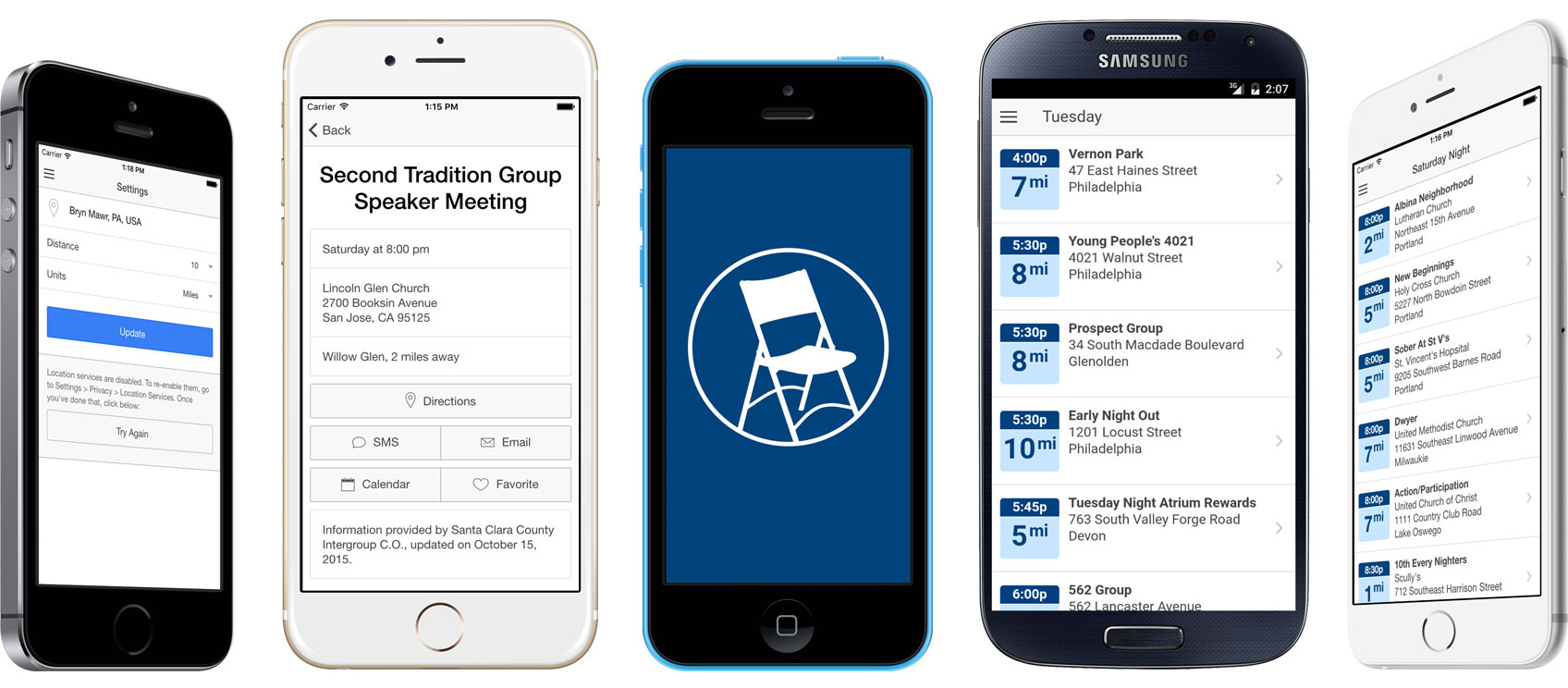 Which Organizations are Supported?
This system relays meeting information from 37 organizations. There are 19,744 meetings currently in the system. The information is refreshed twice daily. The last refresh was 3 hours ago.
| Organization | Location | Meetings |
| --- | --- | --- |
| Continental European Region | Continental Europe | 601 |
| Ottawa Area Intergroup | Ottawa, ON, Canada | 338 |
| Greater Toronto Area Intergroup | Toronto, ON, Canada | 500 |
| Maine and New Brunswick | Maine, USA | 790 |
| Arkansas Central Office | Little Rock, AR, USA | 863 |
| East Valley Intergroup Inc. | Mesa, AZ, USA | 625 |
| Valley Service Center | Dublin, CA, USA | 104 |
| Eastbay Intergroup Central Office | Oakland, CA, USA | 640 |
| Central California Fellowship | Sacramento, CA, USA | 1,197 |
| Intercounty Fellowship Of AA | San Francisco, CA, USA | 891 |
| Santa Clara County Intergroup | San Jose, CA, USA | 578 |
| San Mateo County Intergroup | San Mateo, CA, USA | 341 |
| Santa Barbara Central Office | Santa Barbara, CA, USA | 202 |
| Santa Cruz County Intergroup | Santa Cruz, CA, USA | 273 |
| Delta Intergroup | Stockton, CA, USA | 738 |
| Contra Costa Service Center | Walnut Creek, CA, USA | 372 |
| Northern Delaware Intergroup | Wilmington, DE, USA | 231 |
| AA District 5 – Southwest Florida | North Port, FL, USA | 254 |
| Central Florida Intergroup | Orlando, FL, USA | 493 |
| Area 19 District 15 | Elk Grove Village, IL, USA | 44 |
| Bowling Green AA | Bowling Green, KY, USA | 71 |
| Western Kentucky Intergroup | Gilbertsville, KY, USA | 173 |
| Greater Baton Rouge Area Central Office | Baton Rouge, LA, USA | 316 |
| Baltimore Intergroup Council Of A.A. | Baltimore, MD, USA | 816 |
| Greater Minneapolis Intergroup | Minneapolis, MN, USA | 1,038 |
| St. Louis Central Service Office | St. Louis, MO, USA | 923 |
| Greensboro, NC | Greensboro, NC, USA | 130 |
| Tri-County Intergroup | Raleigh, NC, USA | 351 |
| Rockland County Intergroup | West Nyack, NY, USA | 127 |
| Portland Area Intergroup | Portland, OR, USA | 835 |
| Southeastern Pennsylvania Intergroup Association | Philadelphia, PA, USA | 1,722 |
| Pennsylvania District 43, Area 59 | State College, PA, USA | 51 |
| Hill Country Intergroup | Austin, TX, USA | 902 |
| Coastal Bend Intergroup Association | Corpus Christi, TX, USA | 367 |
| Dallas Intergroup Association | Dallas, TX, USA | 1,421 |
| Tidewater Intergroup | Tidewater Area, VA, USA | 317 |
| Snohomish County Central Office | Snohomish County, WA, USA | 109 |